Welcome to The InstantCert Affiliate Program
Our program is free to join and it's so easy to sign up. You don't need any technical knowledge either. All you need is a blog, or website, or Facebook page, or a Twitter account, or a computer, or a printer; one, all, or none, we can even facilitate tracking your new subscriber by word of mouth.
What do you get?
You get $10.00 for each new person that you refer.
We even give you a unique coupon code to pass on to your potential new subscriber as a way of helping them save money.

We track your potential new subscribers for 90 days. This means that if they don't subscribe to our courses on the day that they visit our website, but come back and subscribe within 90 days, you still get the $10 for referring them.

We saved the best for last, we give you $50.00 cash bonus just for signing up.

How does it work?
We use affiliate tracking software for tracking all of your referred visitors.
We supply you with text links/banners/buttons, if you have a blog or a website, you just have to copy and paste.
If you have a Twitter or Facebook account, you copy and paste the provided text link.
By word of mouth, simply give your referrer your unique coupon code, which is also your Affiliate ID. This method can be applied to all printed advertisements, flyers or posters.
Real-Time Statistics and Reporting!
Login 24 hours a day to check your sales, traffic, account balance and see how your banners are performing.

It works! Screenshot of one of our members.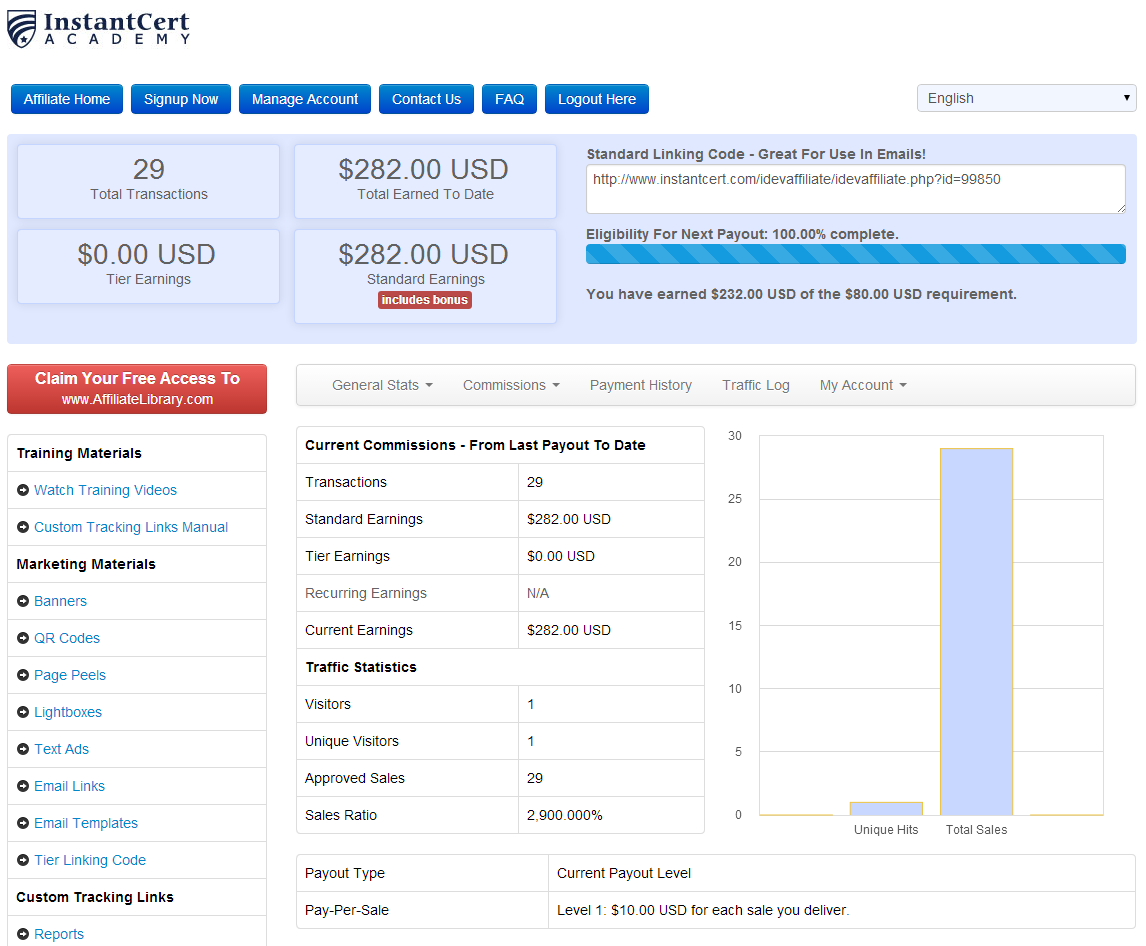 What is affiliate marketing? (overview)
| | |
| --- | --- |
| Commission Type | Pay-Per-Sale $10.00 USD for each sale you deliver. |
| Initial Deposit | $50.00 USD - Just for signing up! |
| Payout Requirements | $80.00 USD - Minimum balance required for payout. |
| Payout Duration | Payments are made once per month, for the previous month. |